1-5-2
on
May 14, 2016
at
8:19 am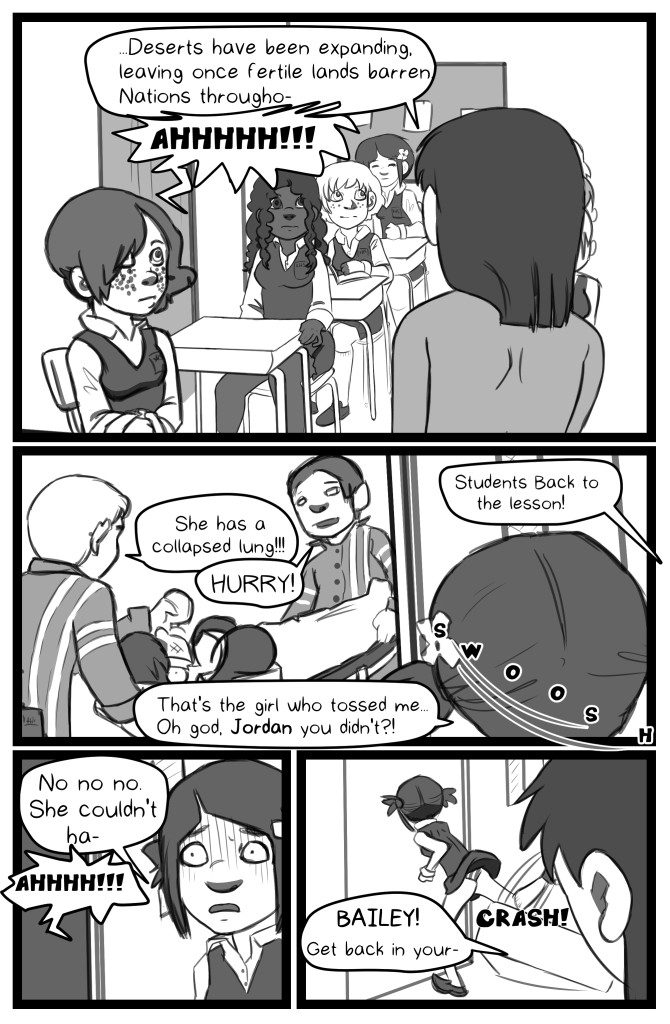 Is that Jordan's handiwork? What was that second scream? Where is the second bully who tried to drown Bailey?
This arc is more of what the comic will BECOME. At least for the second chapter. As I have said a few times, the first few arcs aren't really a good gauge of what this comic is. So I hope you enjoy this arcs darker turn.
Sorry for the big delay on getting this page up. Each page has been taking longer than the last to get drawn. They are becoming much more complex and will continue to do so. So I am sorry to do this, but I think I will need to drop this to a 1pg a week comic. I have 2 more pages in the first chapter to go and then the comic will almost be a different beast all together. Chapter will greatly expand the cast, all the girls (even the teacher) will eventually become pretty developed characters and with a bigger cast that means a lot more work to draw panels. I just can't see myself keeping on schedule with both this and Zoe down the line, especially when want to start working towards a reboot of TPCN in October. I did this about a year and half ago. I wrote it and sketched layouts and originally my good friend laura  did the art for it originally, but as time passed she couldn't keep up with the workload while doing her commissions and her own comic (which hopefully she can get going soon as her art is awesome!) so I searched for other artists as well as colored pg8 and drew the final page to try to keep things going. I didn't feel I was up to the task as an artist myself at the time and decided to put the project on hold. I still don't think I am there, but with the armatures think I can pull it off.
Speaking of. Using the past few months Patreon pledges I bought my first armature so thankyou to everyone who has donated on my Patreon.
I am taking time this weekend to prepare a room to become my work area and will basically build scale rooms and furniture, sort of like doll houses, to get really improved backgrounds in all my comics. I hate drawing backgrounds. If I can just trace a realworld model It will be faster and less stressful on me. Combining this with the armature means I will be able to get camera angles that will allow panels to have much more dynamic compositions, complete with things like extreme foreshortening. I have high hopes for how this will improve my comic pages.
So back onto the point. I will only be doing 1 page of Zoe and 1 of ILMB each week going forward. But over the next few months I plan to greatly improve all areas of the comic, so hopefully you will be ok with quality over quantity. I plan to bring the quality of ILMB up greatly. From the start it has had a much faster sketched look, lacking shading. I will be looking at different ways to improve the work while at the same time keeping the feel. Possibly coloring it (though can't promise that).